Modern China's Best-selling Young Literary Prodigies
alternatively titled
SHOWDOWN: pretty fairy or racer activist?
A PIMP POST
...stay with me. it'll be worth it
So the other day I was looking up my favourite Chinese entertainment news blog,
Cfensi
, when I see this piece about
Guo Jingming
writing the lyrics to some song for Li Yuchun. I haven't thought about him in ages, and I was like, ahahahaha Guo Jingming pffffft. I promptly im'd Tilly and Clare with something along the lines of "this guy should just disappear, ugh".
Because who is Guo Jingming?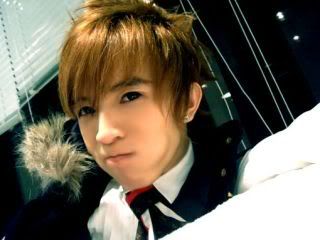 "The most successful writer in China today isn't Gao Xingjian, the winner of the 2000 Nobel Prize, or even Jiang Rong, the author of the best-selling novel "Wolf Totem," just released in the United States. It's 24-year-old (26 now) Guo Jingming, a pop idol whose cross-dressing, image-obsessed persona has made him a sensation in a country where the Communist dictatorship advocates prudery and heterosexuality. Thousands of teenagers — his readers are rarely over 20 — flock to Guo's signing sessions." NY Times
(
yeah i'm luring you with pretty pictures and the word crossdressing, what of it
Collapse
)
So this was clearly a productive evening.
OH DAMMIT I FORGOT TO INCLUDE WHAT MADE MY DAY TODAY:
THIS
and
THIS
DO YOU KNOW WHO THAT IS? YES THAT'S RIGHT, IT'S GUO JINGMING WITH
LI XIAOPENG
. Do you guys remember Beijing 2008, male gymnastics team? YEAH THAT'S RIGHT. HE IS FRIENDS WITH LI XIAOPENG (who is on that team and who i fangirled over and who is cute and hot and won stuff and talented AND FRIENDS WITH GJM). Look in the second picture they're getting each others numbers alkehflsiehf GJM will apparently send his books to LXP (I don't know what this says about his book taste) laskdhflsiehflisehf SOBBING MY OTP this made me really happy okay shut up you guys.